Zonas de intervenciones críticas en Green Mansions (1904) de William Henry Hudson
Palabras clave:
Hudson, Mansiones verdes, narratología, transposición fílmica, novela gráfica
Resumen
En ocasión del centenario del escritor argentino-británico W. H. Hudson (1841-1922), me detendré en revisar los múltiples ámbitos o zonas en los que un texto literario particular, que logró alcanzar el privilegio de haber sido de los más difundidos internacionalmente de su producción, Green Mansions, fue intervenido por la industria y por la comunidad interpretativa. Entre las intervenciones que se dieron al texto base, podemos distinguir las traducciones, las adaptaciones y la producción de un guion cinematográfico y la consecuente producción filmográfica. Entre los textos críticos, pueden recuperarse varias dimensiones: la histórica, que trata al texto como representante del romanticismo tardío; la interpretación retórica, que interpreta a los personajes de Abel y de Rima como alegóricos; la crítica temática en diversas manifestaciones (naturaleza, barbarie y civilización); lecturas coloniales, postcoloniales e imperialismo cultural; ecocrítica, etc. Finalmente destacaré algunos aspectos narratológicos, como el juego de la "realidad" y la ficción, niveles de extrañeza en el texto literario, y juego de voces.
Descargas
Los datos de descargas todavía no están disponibles.
Citas
Altamiranda, Daniel, 2021, "Mito, historia y narratividad en tres relatos sobre El Dorado: Sir Walter Raleigh, Arturo Uslar Pietri y V. S. Naipaul", Cuadernos de literatura inglesa y norteamericana 15.1-2, 79-88.
Ara, Guillermo, 1954, Guillermo E. Hudson. El paisaje pampeano y su expresión, Buenos Aires: Universidad de Buenos Aires.
Bate, Jonathan, 2004, "El canto de la tierra: W. H. Hudson y el estado natural". Trad. Niall Binns. Anales de literatura hispanoamericana 33, 15-31.
Brazzelli, Nicoletta, 2012, "La foresta tropicale come paradiso perduto: Green Mansions di W. H. Hudson", Altre Modernità/Otras Modernidades/Autres Modernités/Other Modernities. Saggi/Ensayos/Essais/Essays 7, 97-111.
Brikell, Herschel, 1946, "W. H. Hudson – Bridge-Builder between the Americas", Hispania 29.1, 98-101.
Clark, Barrett H., 1925, "W. H. Hudson", Southwest Review 10.2, 93-94.
Conesa, George, 2021, "Nostalgia, the Liminal, and Feral Lov in Guillermo Enrique Hudson's Green Mansions", The International Journal of Ecopsychology 2.1.
Cunninghame Graham, R. B., 1922, "W. H. Memorial", Nature, 23 de diciembre, 846.
Fletcher, James V., 1933, "The creator of Rima. W. H. Hudson: A Belated Romantic", The Sewanee Review 41.1, 24-40.
Galsworthy, John, 1916, Fordward. Green Mansions: A Romance of the Tropical Forest by W. H. Hudson, Nueva York: Knopf, VII-XVI.
Gamerro, Carlos, 2015, Facundo o Martín Fierro. Los libros que inventaron la Argentina, Buenos Aires: Sudamericana.
Gillespie, Diane F., 2010, "'The Birds is the World': Virginia Woolf and W. H. Hudson, Visionary Ornithologist", Virginia Woolf and the Natural World. Selected Papers from the Twentieth Annual International Conference on Virginia Woolf. Eds. Kristin Czanecki y Carrie Rohman. South Caroline: Clemson University, Digital Press, 133-142.
Goldensohn, Lorrie, 1992, Elizabeth Bishop: the biography of a poet, Nueva York: Columbia University Press.
Hamilton, Robert, [1946] 1970, W. H. Hudson. The Vision of earth, Nueva York: Kennikat Press.
Hardin, Richard F., 1999, "W. H. Hudson: American Original", Ariel: A Review of International English Literature 30.3, 91-104.
Hazelton, Hugh, 2011, "Otras lenguas en las literaturas nacionales: la obra de W. H. Hudson, escritor inglés de Argentina y la de Pablo Urbanyi, escritor argentino de Canadá", Contexto, Segunda etapa 17, 163-182.
Hudson, William H., 1904, Green Mansions. A romance of the tropical forest, Londres: Duckworth, [Trad.: Ernesto Montenegro, Mansiones verdes. Novela de la selva tropical, 1938, Santiago de Chile: Zig-Zag].
Imhoft, Joshua, 2009, "W. H. Hudson. Between Art and Science", Tesis de maestría, Oxford, Ohio: Miami University.
Iturbe-LaGrave, Valentina s/f, "Estética e ideología del imperialismo cultural en Mansiones verdes de W. H. Hudson",
https://www.academia.edu/2444947/Iturbe_LaGrave_Valentina_Est%C3%A9tica_e_ideolog%C3%ADa_del_imperialismo_cultural_en_Mansiones_Verdes_de_W_H_Hudson
Jurado, Alicia, 1971, Vida y obra de William H. Hudson, Buenos Aires: Fondo Nacional de las Artes.
Klibbe, Lawrence H., 1970, CliffsNotes on Green Mansions, Lincoln, Nebraska: Cliff.
Lencina, Eva, 2017, "Naturaleza y barbarie: Green Mansions (1904) de William Henry Hudson", Jornaler@s, Revista científica de estudios literarios y lingüísticos, Universidad Nacional de Jujuy, a. 3, n° 3, agosto de 2017, 199-208, https://www.academia.edu/37997115/Naturaleza_y_barbarie_Green_Mansions_1904_de_William_Henry_Hudson
Lencina, Eva, 2019, "Canon y nacionalización: la edición y difusión de la obra de W.H. Hudson a través de la 'época de oro' de la industria nacional", REDDED – Revista latinoamericana de estudios editoriales 1, 1-13.
Miller, David, 1990, W. H. Hudson and the Elusive Paradise, Nueva York: Palgrave Macmillan.
O'Mara, Richard, 2010, "On William Henry Hudson", The Sewanee Review 118-4, 575-585. Pujol, Carlos, 1997, Victorianos y modernos, Oviedo: Nobel.
Rodríguez, Fermín, 2010 a, "Perder el tiempo. La literatura de William H. Hudson", El brote de los géneros, vol. 3 dir.: Alejandra Laera, Historia crítica de la literatura argentina, dir. Noé Jitrik, Buenos Aires: Emecé, 174-181.
Rodríguez, Fermín, 2010 b, Un desierto para la nación argentina. La escritura del vacío, Buenos Aires: Eterna Cadencia.
Rosenbaum, Sidonia C., 1944, "William Henry Hudson: Bibliografía", Revista Hispánica Moderna 10. 3-4, 222-230.
Sandman, Alice, 2009, "Immanence and Representation in W. H. Hudson's Green Mansions", Tesis de licenciatura, Estocolomo: Stockolm University.
Tomalin, Ruth, 1982, W. H. Hudson. A Biography, Londres: Faber and Faber.
Walker, John, 1986, "W. H. Hudson, Argentine, and the New England tradition", Hispania 69.1, 34-39.
Ybarra, Mauro, s/f., "Verdes mansiones de W. H. Hudson", s/l.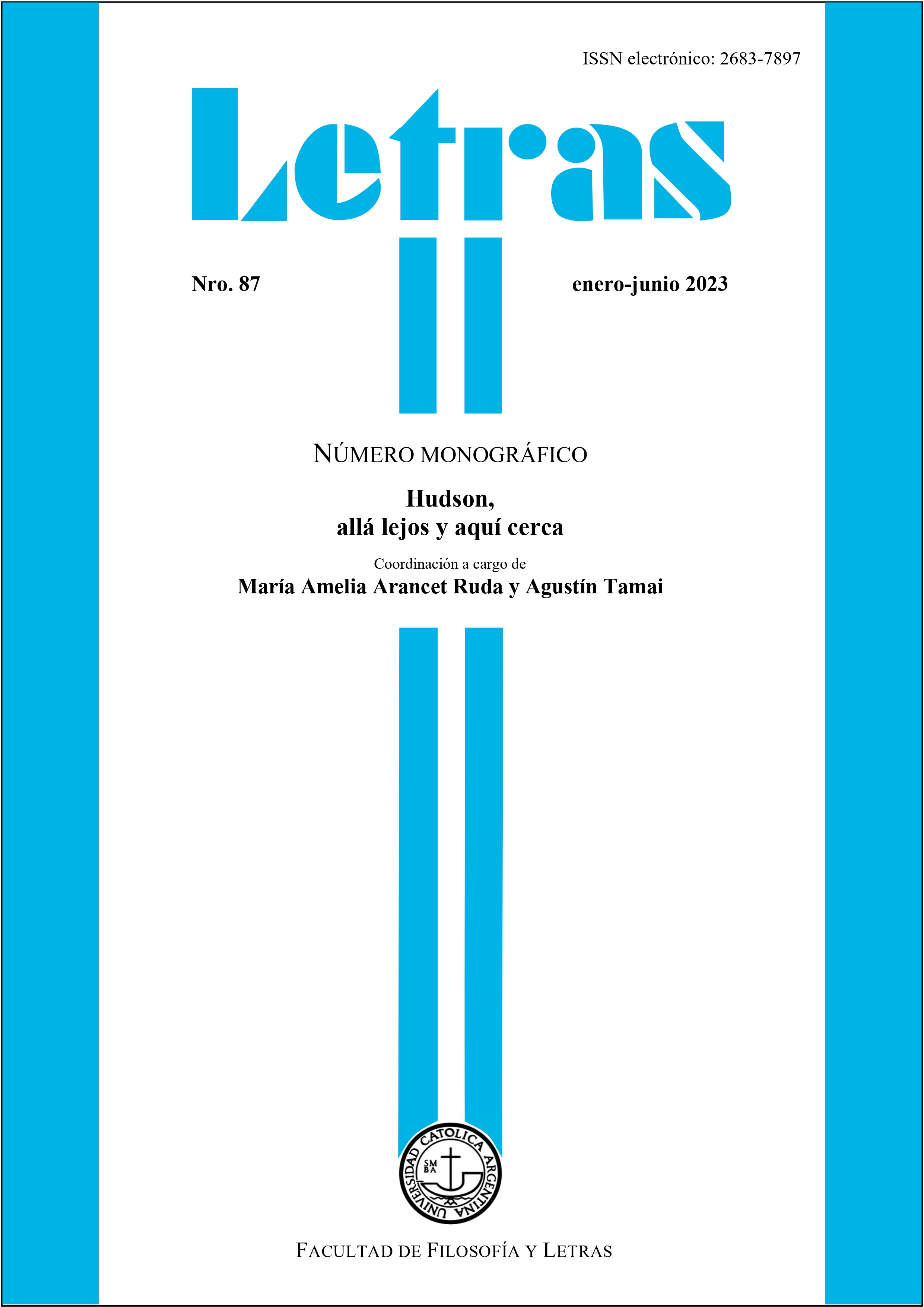 Descargas
Cómo citar
Altamiranda, D. (2023). Zonas de intervenciones críticas en Green Mansions (1904) de William Henry Hudson. Letras, (87), 143–155. https://doi.org/10.46553/LET.87.2023.p143-155
Licencia
Derechos de autor 2023 Daniel Altamiranda
Esta obra está bajo una licencia internacional Creative Commons Atribución-NoComercial-CompartirIgual 4.0.