Acerca de Carson V. Makin: Los contornos jurídicos del libre ejercicio de la religión en el ámbito educativo estadounidense
Palabras clave:
Libertad religiosa, Educación, Primera Enmienda, Igualdad, Autonomía de organizaciones religiosas, Federalismo
Resumen
El presente artículo versa sobre el caso Carson v. Makin (2022), decidido por la Corte Suprema norteamericana, en ocasión del cual se interpretó el alcance de la Primera Enmienda de la Constitución de ese país en el ámbito educativo. Tras un breve repaso de sentencias previas que otorgan el marco en el que se decidió el presente caso, se analizan los argumentos vertidos por la mayoría y las disidencias relacionados con la cláusula de libre ejercicio de la religión y la Establishment Clause; el espacio constitucional con el que cuentan los estados para favorecer una o la otra, y la autonomía de las organizaciones religiosas bajo la Constitución federal.
Descargas
Los datos de descargas todavía no están disponibles.
Citas
Becket Fund - Religious Liberty for All, Blaine Info Central. Dismanteling discriminatory Blaine Amendments. Disponible en: https://www.becketlaw. org/research-central/blaine-amendments-info-central/
Garnett, Richard W., "Religious Liberty, Church Autonomy, and the Structure of Freedom", Christianity and Human Rights: An Introduction, John Witte, Jr. and Frank S. Alexander eds., Cambridge University Press, Notre Dame Law School Legal Studies Research Paper No. 10-10, 2010, pp. 226-238. Disponible en: https://ssrn.com/abstract=1585191
Garnett, Richard W., "The Theology of the Blaine Amendments", 9/12/03. Disponible en: https://papers.ssrn.com/sol3/papers.cfm?abstract_ id=455220
"George Washington's Farewell Speech to the People of the United States". Disponible en: https://www.senate.gov/artandhistory/history/re- sources/pdf/Washingtons_Farewell_Address.pdf
Glenn, Charles, "The future of faith-based schools", First Things, 15/11/21. Disponible en: https://www.firstthings.com/web-exclusi- ves/2021/11/the-future-of-faith-based-schools.
Reaves, N., "Religious autonomy in Carson v. Makin", Harvard Journal of Law and Public Policy Per Curiam, 29/7/22. Disponible en: https://www. harvard-jlpp.com/religious-autonomy-in-carson-v-makin-nick-reaves/
U.S. Department of Agriculture, Economic Research Service, Maine. Disponible en: https://www.ers.usda.gov/webdocs/DataFiles/53180/25574_ ME.pdf?v=0
Viteritti, Joseph, "Choosing equality: Religious freedom and educational opportunity under constitutional federalism", 15 Yale L. & Policy Rev., 1996, 113, 160.
Young, Ernest A., The Supreme Court and the Constitutional Structure, Nueva York. Foundation Press, 2012.
Normas
Maine Const., Art. VIII, pt. 1, §1.
Maine Rev. Stat. Ann., Tit. 20-A, Section 5204(4). Maine Rev. Stat. Ann., Tit. 20-A, §2(1).
Maine Rev. Stat. Ann., Tit. 20-A, §2951(2).
Missouri Const., Art. I, § 7. US Const. amend I.
Jurisprudencia
Carson, as parent and next friend of O.C., et al. v. Makin, 596 U. S. ____ (2022).
Espinoza et al. v. Montana Department of Revenue, et al., 591 U.S. __ (2020).
Eullit ex Rel. Eullit v. Maine, Dept. of Ed, 386 F. 3rd 344 (2004).
Hosanna-Tabor Evangelical Lutheran Church and School v. EEOC, 565 U.S. 171 (2012).
Locke, Governor of Washington, et al. v. Davey, 540 U.S. 712 (2004).
Town of Greece, New York v. Galloway et al., 572 U.S. 565, 566 (2014).
Trinity Lutheran Church of Columbia, Inc. v. Comer, Director, Missouri Department of Natural Resources, 582 U.S. __ (2017).
Zelman, Superintendent of Public Instruction of Ohio, et al. v. Simmons-Harris, et al., 536 U.S. 639 (2002).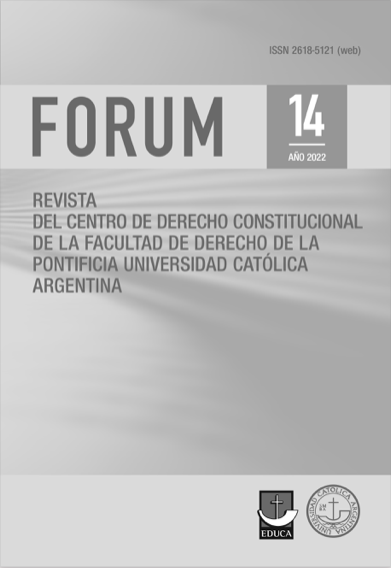 Descargas
Cómo citar
Riccardi, M. S. (2022). Acerca de Carson V. Makin: Los contornos jurídicos del libre ejercicio de la religión en el ámbito educativo estadounidense. Forum, (14), 117–148. Recuperado a partir de https://erevistas.uca.edu.ar/index.php/FORUM/article/view/4585
Sección
Parte II - Notas o comentarios